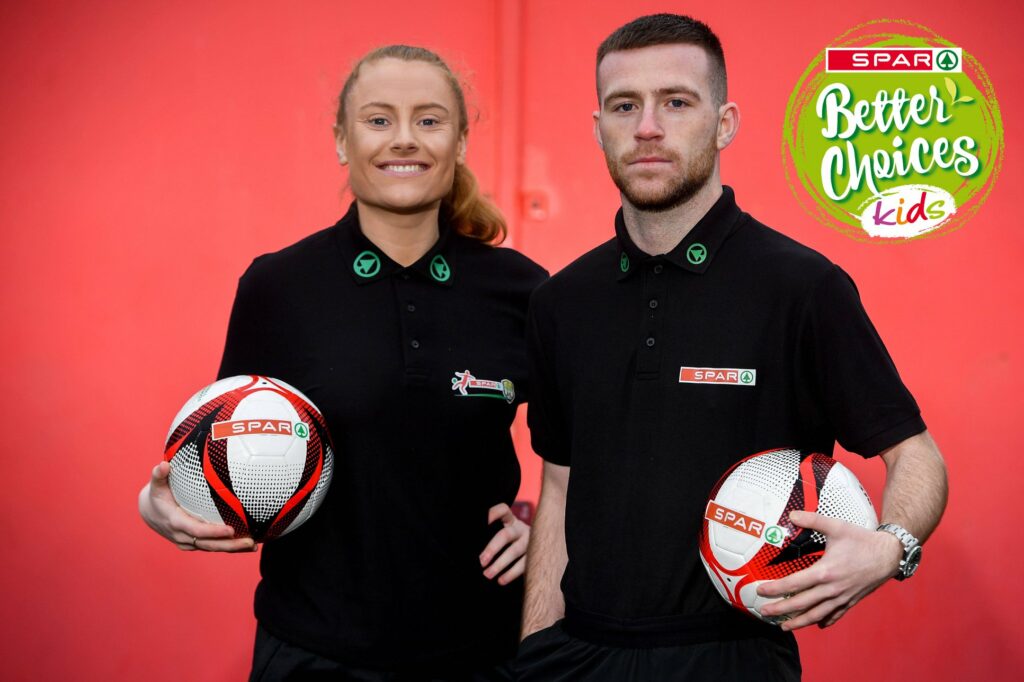 FAI and SPAR launch the 2020 Healthy Eating Guide
The Football Association of Ireland are delighted to join forces with SPAR, to encourage children to adopt healthy eating habits by sharing easy-to-follow recipes for wholesome breakfasts, lunches, dinners and snacks at home, all made with ingredients available in your local SPAR store.
Eating healthier food helps children to concentrate for longer and learn more, while it also helps create the energy they need to perform at their best at sport. Three times a week, on Tuesdays, Thursdays and Saturdays, three healthy recipes that are fun to make and healthy to eat will be chosen by members of the Ireland senior squad and available to download from the FAI's website.
The recipes have been carefully crafted to ensure a balanced mix of vitamins and minerals are present in each meal and snack and will help keep people satisfied over the coming weeks and months.
SPAR has a proud history of promoting healthy eating through their SPAR Better Choices and SPAR Better Choices Kids initiatives and these recipes highlight that people can rely on their local SPAR retailer to maintain their healthy lifestyles during the Covid-19 lockdown.
20 players from the Republic of Ireland Men's and Women's Senior Teams are involved in the 2020 Healthy Eating Guide, including SPAR FAI Primary School 5s Ambassadors Amber Barrett and Jack Byrne (pictured above).
Former Ireland striker and FAI Interim Deputy CEO Niall Quinn said:
"The SPAR Healthy Eating Guide is a brilliant opportunity for children and their families to try some healthy and tasty recipes during this current lockdown period. I'm delighted that our senior men's and women's internationals are part of this programme. A healthy diet is key to a healthy lifestyle. It's fantastic to join forces with our Primary 5s partners SPAR to give those around Ireland the opportunity to try some new and tasty recipes."
Colin Donnelly, SPAR Sales Director said:
"We are delighted to be partnering with the FAI in reprising this fabulous initiative. When we brought the Healthy Eating Guide out for the first time in 2017, it was a terrific success and it is great to be updating it and showing people that they can continue to eat healthily during these truly extraordinary times. At SPAR, our local community-based retailers are committed to providing our customers with the best of options under the tree and the Healthy Eating Guide is a perfect way to show our commitment to that."
The 2020 Healthy Eating Guide can be downloaded here :